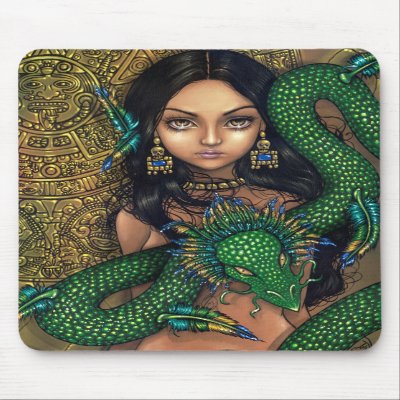 Azteca´s Girl and Quetzañcoatl
They tell that before the arrival of Quetzalcóatl, the Aztecs only they were eating roots and animals that they were hunting.

They did not have maize, so this so food cereal for them, it was hidden behind the mountains which were more than impossible to cross.
The Aztecs prayed to his gods in order that they were helping them to happen across the mountains and the former gods tried to separate the mountains with his colossal force but they did not achieve it for what the gods indicated them that they had to speak with the god Quetzalcóatl.

- I will bring them - the god answered them.
Quetzalcóatl do not use the force as other gods they tried to do use his trickery and it transformed in an ant black and accompanied of a red ant, went to the mountains.
Aztecas and Maize
The way was very dangerous, with big difficulties but Quetzalcóatl I risk, thinking only about his people that it was praying in order that it was returning with good. In his small body I advance across the dangers evading the animals mas dangerous of the region that they were not achieving to see it for his tiny stature and I climb over rocks that no other it might
Quetzalcóatl came up to where the maize was, and on having been transformed into ant, took a mature grain between his jaws and undertook the return. On having come it delivered the promised grain of maize to the hungry aborigens.
The Aztecs planted the seed and saw astonished since there was growing the plant which gave thousands of seeds that they planted on his fields and that they began to harvest and to sow again to have it galore.
The grain was the miracle for that they so much were waiting since it them turned into a strong people that I construct big cities, palaces temples and one tells the history that up to today it is not possible of forgetting.
The grateful Aztecs began to venerate Quetzalcóatl, the god friend of the men, the god who they brought the maize.