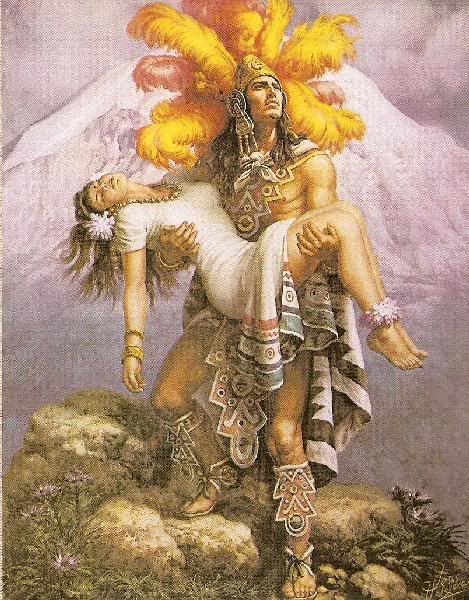 Popocatepetl and Iztaccihuatl
One of the most beautiful legends is that of both lovers Iztaccihuatl and Popocatepetl who for many centuries counts himself in my country.
Both are two volcano that can be seen in the city of Mexico, sadly already cutlery of snow are not seen as 10 years ago but even they meet majestic.
Specially from the top of the tower Latino Americana
Some time ago, when the Aztecs were dominating the Valley of Mexico, other peoples had to obey and produce tax, pass to his dissatisfaction them. One day tired of the oppression, the chief of a distant people decided to fight for the freedom of his people and began a terrible war between Aztecs and his people. The beautiful princess Iztaccihuatl had fallen in love with the young person captain Popocatepetl
Both were inspired love, for what before going to the war, the warlike fort popped the question from his princess to the chief that I accept in return for the fact that Popocatepetl was presenting to the chief the head of his opponent inserted in a lance.
The brave warrior prepared himself with men and weapon, dividing to the war after listening to the promise from which the princess would expect for it to marry him to his return.
Days happened and in the nights, the princess continued waiting for the return of his dear one but a rival of Popocatepetl I announce that he had died in combat. On having found out, the princess Iztaccihuatl died of sadness.
Popocatepetl victorious return was received by a great banquet but on having asked to see his princess they reported that she had died for a messenger who had brought the news of his death in battle. Distressed, I take the corpse of his princess and it loaded it up to depositing it leaned in the top of a mountain and igniting a torch he inclined close to the body of his dear one.
The guardian of the princees
The gods affected by what they had seen, transformed the bodies of both lovers into covered volcanoes of snow to eternize and to honor his history
As for the man who mientio died near his land And since I punish the gods they turned it into a mountain that they were called Citlaltepetl which takes charge monitoring both lovers to which it eats it might separate
The Citlaltépetl has 5,747 meters of height, the Popocatepetl 5,452, the Iztaccihuatl 5,286 and the Malinche 4,461. They are the four highest and spectacular volcanoes of Mexico.